Owner's Representation / Project Management
Serving Hotels, Education, Healthcare, Retail, and Restaurants
Global's Owner's Representation/Project Management services manage the project from the beginning of the design phase through to the project's completion. Our Owner's Representation/Project Management Team work as liaisons between the owner and all of the other related parties involved in the project to include: Architect, Engineers, Interior Designers, General Contractor, Subcontractors, Suppliers, and Vendors, most of which are in-house staff.
Why choose Global Construction & Development Corp?
30 years of construction experience
Creative Value Engineering capabilities
The majority of trades are performed by in-house staff to better control quality, efficiency, and project costs
License and permit capacities in most US states and the Caribbean Islands
State-of-the art communications and operations systems
Rapid-response mobilization and fast-track schedule
Owner's Representation/Project Management Delivery Method: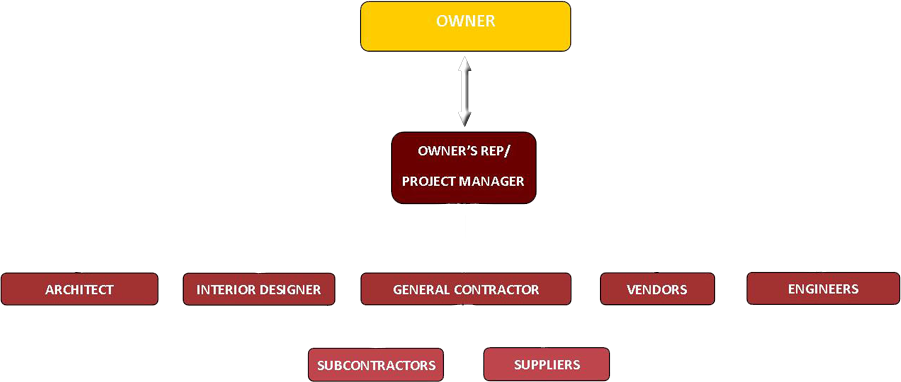 Global Construction & Development Corp.'sOwner's Representative/Project Management Team perform:
the design development process to ensure project scope is achieved
the overall project budget (including FF&E and other non-design/construction related costs)
the bidding process
assist with jurisdictional reviews and project related mitigation issues
construction related activities, including pay applications
project close-out and occupancy
move management and relocation
Our Owner's Representative/ Project Management Team provide:
Time Savings – We take care of the heavy workload related to managing a construction project. This allowsyou to be engaged and informed without being overwhelmed or burdened.
Cost Savings – Wecreate a comprehensive project budget that includes hard and soft costs,generate the master budget, and track expenses related to progress on the project.We assist on preventing delays and miscommunications, saving you money.
On- Time Scheduling – We work with the project's teams to build a master schedule, so we can track it, stay on top of it, and keep costs in order.
Superior Quality – We adhere to high-quality standards for all services and deliverables we provide our clients.
Scope Identification – We define the project teams' roles and outline their responsibilities.
Hiring and Contract Negotiation - We generate the RFP, interview, and negotiate contracts.
Latest Software Systems – We manage countless documents on your behalf. We utilize project management software that allows the exchange of information and filing of records.
Best Practice Communication – We facilitate communications across all project teams to ensure project clarity.
Peace of Mind – We followindustry protocols reducing your time involved in the project, and minimizing unexpected costs.